DB-PRINT는 Database의 Table 정보를 시각화 하는 도구 입니다.
현재 지원하는 DBMS는 Oracle, Mysql 두종류 입니다.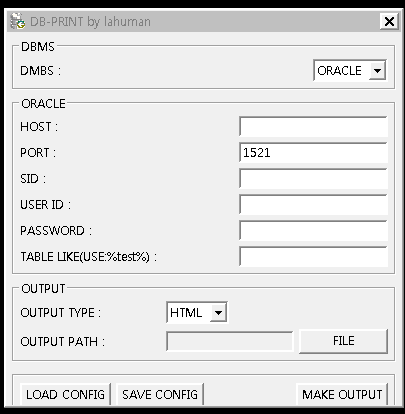 Download
Windows 전용 실행 파일
다른 OS의 경우 Source를 다운받아 실행 하셔야 합니다.
Notice
JRE 1.7 이상이 설치 되어 있어야 합니다.
JRE_HOME 환경 변수가 설정 되어 있어야 합니다.
Function
특정 테이블만 저장 가능
테이블 정보를 HTML or EXCEL로 저장
Update history
License
DB-PRINT 는 open source 프로그램으로 MIT 라이선스를 따릅니다.
This DB-PRINT is free and open source software, distributed under the MIT License. So feel free to use this program on your project without linking back to me or including a disclaimer.